"Sorry". It might be the word most often heard in the course of Rosie, offered in earnest upset by the eponymous mother-of-four whose fracturing family she can't but feel she's failing. But this small-scale Odyssey across Dublin in search of somewhere to sleep hasn't touched a nerve for its raw depiction of the human suffering of our rapidly-worsening housing crisis; rather, it's in the film's subtle, sober, and stomach-sinking perspective on the way those who've slipped through our society's growing cracks have been made to feel they're at fault that its pervasive effect comes primarily to be felt.
Because who among us hasn't whispered, or mouthed, or just thought that word as we've passed yet another stray soul out on the streets, cast adrift in the midst of it all. If a single case of homelessness is a tragedy, to amend the old adage, ten thousand is a statistic. And as written by Roddy Doyle and directed by Paddy Breathnach, Rosie is less an effort to put a face to these facts and figures than a sad stark reminder that sorry's just not good enough. The stigmatised school lives of Rosie's young kids; eyes askance at the idea of emergency accommodation in our hotel; desperate efforts to stuff bulging bags back into the boot before they give away the car as home on the road: this is a film freighted with shame, and firm in its conviction that the wrong people are being made to feel it.
And oh, how they do: her features rarely not the focus of Cathal Watters' cramped compositions, Sarah Greene invests Rosie with a wrenching emotional tension, alternating protective maternal restraint and sheer desperate panic with a visceral versatility to make painfully real the night-to-night terror of this family's situation. Hers is an extraordinary performance in how it evokes performativity, both in the brave face maintained for the sake of the children and the deflective demeanour meant to mask the reality of their living situation from the wider world. As paired with the enervating energy of Watters' often long-take, hand-held camerawork, it's the basis of the movie's startling evocation of the deep-seated dread that frames Rosie's daily struggle to provide.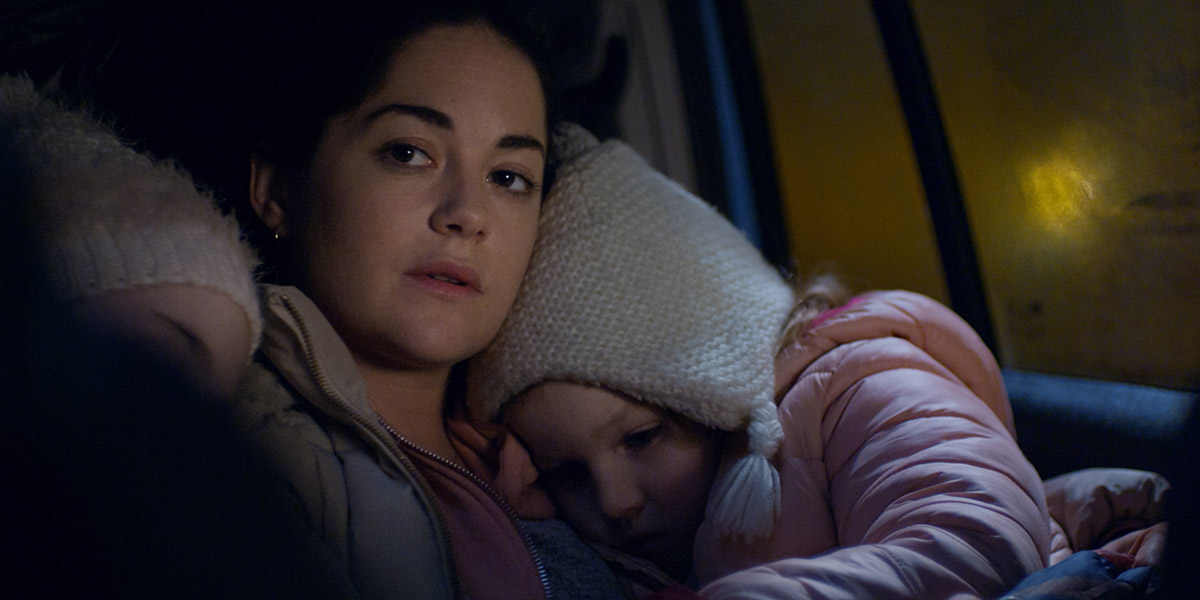 At the peripheries, always, is an Irish society that feels forever inured to this story; his frames often faded at the edge with a shallow-focused immediacy, Breathnach selectively shoots Dublin cityscapes only ever half-discernible, brilliantly visualising the implicit ironies in this tale of two cities. His great conceptual coup is to render Rosie a road movie devoid of movement: claustrophobically captured six strong in the car, the family is framed against an iconography of infrastructure, whose tacit promise of progress is always tantalisingly denied them. Breathnach has form with the genre, of course; his I Went Down smartly played on the same tropes of the road on screen to explore an Ireland on the cusp of a new cosmopolitan identity. Now, two decades on, we see the end product of that evolution, these lives left to fend for themselves on the side of the road.
There's a sense of circularity too to the involvement of Doyle, whose self-scripted Barrytown Trilogy adaptations gave us a cast of characters whose in-spite-of-it-all antics felt an aptly amusing answer to the economic miserablism of their setting. And in an ingeniously-pitched late-stage food fight scene that plays like an overt evocation of those earlier family dynamics, that's a sensibility inverted here as the lived reality of a so-called recovery kept going leaves little to laugh at for those left behind. In a script that feels it can't bring itself to make light, in direction that seems sometimes almost to quake with anger, in performances alive with passion and pique, Rosie realises the true weight of the word "sorry", and lets its implications hang heavy.